The Midwives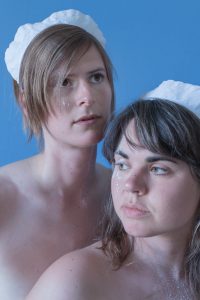 They walk on cotton softness, silent and soothing, saturated in the light of the dawn. They greet you with a friendly face and smiling, glittering eyes. They are the wardens of the Sisters new-born twins. They are the carrying arms and the comforting shield.
They understand the importance of life's oppositions – they value warmth and freedom at the same time. Day and night. Sound and silence. Play and rest. The girl and the boy. Being a loving foundation they create the possibility to stretch into higher levels and into deeper and sincerer flows of life. As the deepest roots of the highest tree swaying in the wild winds. As the deep mountain lakes, peaceful and glassy on the top but a mysterious adventure in its depth.
They sleep with only one ear in darkness, listening to an un-ryth-mic breath, turning the body as the body needs. They answer to seeking eyes and embrace life with the heart. They see the nurturing of it as their most important task. They receive, respond and stand solid in sudden changes of emotion. By gathering their awareness to the smallest movements, to the smallest shift of atmosphere, their senses are sharpened and vulnerable. They melt from the smiles and they absorb the tears in a secret pond.
They found each other in the search of art, poetry and human connections and they became a new reinforcement of one another. A new reliable unity. Most importantly a reinforcement to the Sister and the Twins.
Performed by Sunniva Fliflet (Intuition) and Oline Brønd (Ekko)