Protector of the Archive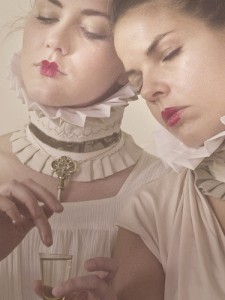 The Protector of the Archive is the creature of two inseparable bodies conjoined by their uterus. The Protector guards the Archive in the school basement and is the one who gives permission to the students to enter the Source. The students may reach the Source by asking the Protector questions, and when the Protector consider the answer as ready it will be delivered to the student. Since the Protector believes that the staff of the school is a part of the Poetic Source it is truly committed to help and protect the teachers in every aspect of their daily lives. When the Protector isn't needed by the staff it's seeks to create magnetic fields to experiment with the subliminal forces and identities of the human being. Though, at times the Protector can be too exhausted to work in the field of force and in these so-called lapses the Protector is unable to connect with the Source. In a lapse the Protector will enter a subliminal state and appear distant.
The Protector comes from a desert of golden dust and white flakes, from a forever and never existing nowhere without the no, a place and a time where the I always was more than one. The Protector is led by an obsession of THE EXCESS. The Protector believes that THE EXCESS is the profoundly obscure point, toward which art and desire, death and night seem to tend, and is convinced that when it finds THE EXCESS the dust will turn into gold again and I will become more than one. In the search of THE EXCESS the Protector collects stories and literature. A collection of worlds that are kept in the Archive and guarded by the Protector. It was also in the search of THE EXCESS that the Protector found the Sisters, and ever since the time of dust the Protector has followed the Sisters, and the Sisters have continuously been devoted to donate literature to the Archive, their united Source.