The Flame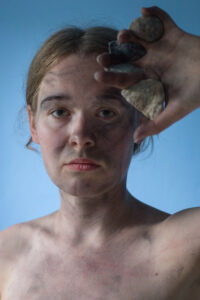 You will find The Flame at the beginning:
Svøbt i en moderkage af verdens aske.
She has just been born, the world is about to change.
She looks for fertile soil to learn and grow.
Moving with the rhythm and the pulse of the ground:
The Flame seeks the water and the wind.
The Flame seeks the stones and the sand and the mud and the blood.
The flame reach for the blazing hot core of what loves us and what violates us.
She sees its roughness and toughness and its bursts of light and love –
and she takes it and fuels it and she loves to see it grow –
until she removes her eyes again and pass it on for it to glow.
She is as old as the earth yet she only knows the now.
one step before the other and everything is yet to be found:
"Let's go find the craters,
the undiscovered lands;
the fields covered in ashes
and fossils in the sands."
She wants to take your hand and follow you the way,
when you are ready to feel the heat and ready to let go.
Discover the layers by hand,
taking death and giving birth.
The direction is a hotspot at the center of the earth.
Performed by Emilie Harrekilde
Sisters Staff by Sisters Hope
photo: I diana lindhardt