The Wild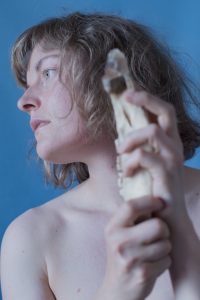 The Wild draws her energy from nature and is connected to nature's most fundamental pattern: the cycle of life-death-life. She brings people into the wilderness to evoke forgotten senses.
We are all filled with yearning for the wild. Few culturally accepted antidotes to this yearning exist. Yet, we are raised to feel ashamed of our longing. We let our hair grow and hide our feelings in it. But the shadow of the Wild still lies behind us. Everywhere we stand or go, the shadow follows our heels – and distinctly has four legs.
. Eat
.. Rest
… Use your sense of smell
…. Roll in the sand
….. Notice your heart
…… Let the weather be your temper
……. Follow the life-death-life pattern
…….. See in the dark
……… Love
………. Howl often
In the Wild, always follow nature's rules, unconditionally.
Performed by Stinne Vium