The Great Invocation
From the point of Light in the Mind of God
Let Light stream forth into the mind of men;
Let Light descend on Earth.
From the point of Love within the Heart of God
Let Love stream forth into the hearts of men;,
Let purpose guide the little wills of men;
The purpose which the Masters know and serve.
From the centre which we call the race of men,
Let the Plan of Love and Light work out
And may it seal the door where evil dwells.
Let the Light and Love and Power
restore the Plan on Earth.
– Shambala's door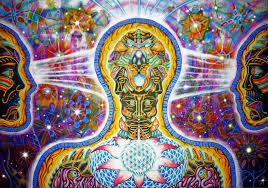 Shambhala is said to be the land of a thousand names. It has been called the Forbidden Land, the Land of White Waters, Land of Radiant Spirits, Land of Living Fire, Land of the Living Gods and Land of Wonders.

The idea of Shambhala is said to have outer, inner, and alternative meanings. The outer meaning understands Shambhala to exist as a physical place, although only individuals with the appropriate karma can reach it and experience it as such. The inner and alternative meanings refer to more subtle understandings of what Shambhala represents in terms of one's own body and mind (inner), and during meditative practice (alternative).

The concept of Shambhala plays an important role in Tibetan religious teachings, and has particular relevance in Tibetan mythology about the future.  The Kalachakra prophesies the gradual deterioration of mankind as the ideology of materialism spreads over the earth. When the "barbarians" who follow this ideology are united under an evil king and think there is nothing left to conquer, the mists will lift to reveal the snowy mountains of Shambhala. The barbarians will attack Shambhala with a huge army equipped with terrible weapons. Then the king of Shambhala will emerge from Shambhala with a huge army to vanquish "dark forces" and usher in a worldwide Golden Age.

Though the Kālachakra prophesies a future war, this appears in conflict with the vows of Buddhist teachings that prohibit violence. This has led some theologians to interpret the war symbolically – the Kālachakra is not advocating violence against people but rather refers to the inner battle of the religious practitioner against inner demonic tendencies.